Discover All Greece Best Hotel Greece 2014 Awards comes to Hotel Tsitouras Collection in Santorini island, best island in Europe. The top hotel Tsitouras Collection Santorin is a treasure on  the Greek Aegean sea…
Luxury hotel Tsitouras Collection is located in Firostefani, between Oia et Fira in Santorini island, in Cyclades island. The Tsitouras Collection is an 18th-century mansion with an extended renovation. Tsitouras Collection has been one of the best Hotels I have ever stayed. I stayed there with my family this year end of June (380 Euros per night with breakfast, reservation made in January 2014). It is one of the best hotels in Greece I stayed at, in all my life. It is a very well situated hotel : very calm, almost insulated from the world. However, it is 800 m from Fira with many shops and restaurants.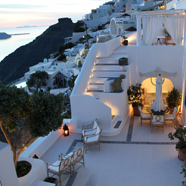 Dimitris Tsitouras
What is interesting in this hotel, it is the quality of the service. George and Eleni are high hospitality professionals. They are so kind and loving that you really feel as if you were at home. The breakfeast served at anytime is copious and carefully prepared….really nothing to criticize.
The Tsitouras Collection comprises a villa and 5 individually designed sutes : We enjoyed our stay in « The House of Sea » with its superb patio. Among several historical and artistic greek masterpieces, we could discover a unique genuine ceramic moulding of Pablo Picasso ! Apart from that, we had the top comfort : The bed was comfortable, the shower was warm, air-condition worked properly and the all site was quiet. Moreover, we felt all around us a serene greek atmosphere which really relaxed us. The overflowing swimming pool is a gem in front of the Aegean Big Blue : you have a stunning view on the Caldera.
Price per night is not excessive at all : around 450 euros/night, if you consider the perfection of the service and location. Dimitris Tsitouras, Eleni's father, felt in love with Santorini, created this hotel and afterwards became a passionate collector who already counts many many artifacts he will exhibit in the museum he is building now in Santorini .
The Tsitouras Collection welcame many celebrities from the worlds of business, politics (J.Kennedy, Jack Lang), fashion (Gianni Versace, Jean Paul Gaultier etc), music (Nana Mouskouri, Demis Roussos etc) and cinema (Hugh Jackman, Catherine Deneuve, Pedro Almodovar etc).
Live there like an Hollywood star for a while or choose to live there as simply as possible. This hotel is create for both moods. Be careful, if you wish to book at the Tsitouras Collection hotel for this summer, please go ahead from now on…
Ma score : 10/10.
Booking.com' s score  9,7/10
Tripadvisor : 62 vote Excellent & 1 Very good
Award : « 5 stars luxury class Diamond Status »
Fodor's 100 Hotel Awards 2011, Category « Local flavor »