Discover Greece : What are the best places to stay in Crete in Greece ? Crete island is one of the best places to go and see by car because of its beautiful beaches, towns and mountainous landscapes. I will make you discover Greece through that Greek island unique of beauty in Europe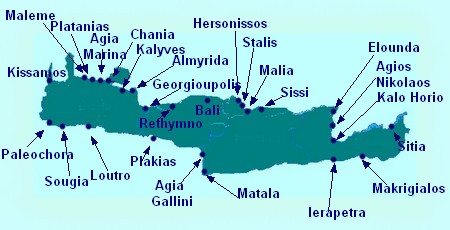 My experience in Crete : You will find above the map of Crete showing best places to see. It's the largest, the most populous and visited island of Greece : the 5th most largest one in all the Mediterranean sea. However, Crete keeps all its stunning unlimited beauty with its high mountains and gorges, beaches and great history, etc. I went in Crete 10 years ago and afterwards 5 years ago and in a lapse of time of 5-6 days ! I visit all the island by car with my husband and my daughter. We stayed in Herakleion in the very nice Galaxi Iraklio Hotel (booked early, you can get very good accomation's prices) 
The best places to see absolutely in Crete are the following :  
1. There are in Crete 3 significant airports, at Herakleion, at Chania (west of Greece) and a smaller one in Sitia (east of Greece). The first two serve international routes are the main gateways to the island for tourists and all other kind of people. Have a look at « Book flights » on that blog to book your tickets. Arriving at Herakleion, better is to rent a car because the island is quite large and without car, you would need months to discover the entire island…
Not far away from Héraklion (the town where the famous Greek writer Nikos Kazantzakis was born), go to Minoan Knossos palace. It was very active palace of Cretan king and it was destructed in 1450 BC (mainly from the earthquake of Santorini) which marked the end of Minoan civilization. The invasion of Mycenaeans used Knossos as their capital and ruled the island of Crete there until 1375 BC. Arthur Evans, the British Archaeologist excavated the mythological labyrinth in 1900 AD in about 20,000 square meters and dicovered fabulous complicated multi-storied buildings. You discover there wall frescoes which approached the beauty of life and the splendor of nature with a joyous disposition (dolphins, flowers etc), many storage magazines and workshops, the Throne room, the central courtyard, and the theater, along with the royal chambers. To complete your visit, go and see Archaeological Museum of Herakleion.
 Queen appartments
2. Leave a little bit Minoan History to go and visit the Northeast of Crete. Visit Spinalonga island. During Venetian in 1600 AD occupation in 1600 AD the island was carved out of the coast for defense purposes and a fort was built there. The island has also been used as a leper colony from 1905 to 1962.
Then go and see Agios Nikolaos' bay, a very very nive village located northeast of Crete. I loved this picturesque little town with its lake Voulismeni… very romantic. With my family, we stayed in a hotel that I booked early in spring : at Palazzo Arhontiko Hotels Apartments (book here here if you wish) because in August, all good hotels are booked !
Then from the very east side of Crete, you must go and see à Sitia : a beautiful town counting 9.000 inhabitants with nice beach, beautiful cafés near the seaside on nice quay. I tested it for you. See the photo below.
and finally, do not miss the The palm beach of Vai, near by Sitia town. We went swimming there .. very hot waters (25 degrees C.) and so limpid ! Then, we went back to our hotel at Héraklion.
3. Leave north of Crete to discover the south of the island ! We took the car and threaded our way down to Matala. As you can see on the photo below on the left, there are artificial caves in the cliff. They  were created in the Neolithic Age. In the 2nd centuries, the caves were used as tombs. In the 60s the caves were occupied by the hippies. Canadian singer Joni Mitchell composed there in 1971 her song « Carey »
4. We decided to go to the west side of Herakleio and visit the very nice town of Rethymno (40.000 inhabitants) with its amazing seaside.
and then, we went to see Arkadi Monastery, 25 kms away from Rethymno. Built in 16th century, it was a place for science and it had a brilliant school. The had an active role in the Cretan resistance against the Turks Ottomans at the Cretan revolt in 1866. About 1.000 Greeks (in majority, mostly women and children) found sought refuge in the monastery but the priest hegumen Gabriel decided to blow barrels of gunpowder rather than surrender to the enemy (death would be worse, they thought). The monastery became a national sanctuary in commmoration of the Cretan resistance (8th of November is like national day).
     Arkadi Monastery                       Giuseppe Lorenzo Gatteri painting  (19th cent)
And then, in the afternoon, we drove to Chania in Crete (west of Crete), the most stunning town in all Crete . Despite being bombed during the 2nd War, I consider Chania the  beautiful urban district on Crete, especially because there is a crumbling nice Venetian harbour : I loved to see « Yiali Tzami"  meaning "seaside mosque" (see photo below on the left), the historical buildings of heroes of the Independance war of 1821, the War Museum (showing everything from Cretan Battle of 1941), the narrow streets with the colored houses.
We stopped at a taverna and we ate many delicious cretan dishes : Raki or Tsikoudia (very strong drink) served with paximadia (dry round small breads covered with feta, tomato and origano) and sea food….hmmm… Food is based on olive oil, fish etc and it is quite light and healthy….
We stayed at Chania for just 2 nights at Casa Leone Boutique Hotel What could I say about this hotel ? : One of the nicest I have ever seen in my life … I would have stayed more but it was impossible… We had to continue our trip in Crete.
2 nights because next day we decided to go to Balos, not far away from Chania. We discover something unique there : the Balos lagoon. It is actually a strip of white sand surrounded by blue turquoise waters surrounded by craggy cliffs and swallows. It ends with rocky islet of Gramvousa. To get there, better is to have rent a 4 x 4 car because the path is a little bit rocky. But at the end, you have Paradise in front of you !
5. Next day, we went to the gorges of Samaria, between Chania in Crete and Rethymno. Samaria Gorge is one of the main sights of Crete and it is very visited. The most famous part of the gorge is the stretch known as the « Gates »  with a width of 4 meters and a height of almost 300 meters . The gorge became a national park in 1962. We started at Xyloskalo (1227 m. above sea level) and tried to reach the seaside village of Agia Roumeli but the gorge's path is 16 km long. We walked only 3 kms : we were a little bit lazy admiring all the time the beautiful nude mountains covered by pines and other kind of trees. Our experience there was absolutely unique….
6. In the evening, we are on our way back to Herakleion (see photo on the top of this article). We spend the day to visit the town and buy some souvenirs for our family in Greece.
My experience in Crete :
I understood that we can not visit Crete in only 1 week. Even, with a car, you will need 15 days at least. I did not tell you all but they are many other interesting places to see in Crete than these I mentioned above,
Decide to travel in Crete in June or in September (summer time starts beginning of June and ends in mid-October). They are no reaons to discover Crete with that mass of turists around you. Enjoy your stay in Crete with calm. In this way, you will live better near by the Greeks. You will feel many things about the Greek region of Crete and about its inhabitants (friendly, warm, simple, social people).
Schedule your holidays in Greece early (4-5 monts prior to your departure). You will take advantages of good prices for flights and accomodation' s prices (good relation with quality of services). You will get what you exactly wish…
Crete is an amazing island where you can do many things : walks in nice towns, rides in picturesque villages in the montains or on the seaside (or both), visits to museums, long-distance hiking..etc. The sea is around you for the best bathing. Mountains are there to refresh you. I can understand why this is the favorite destination of thousands of turist around the world…
To complete your discovery of the Greek region of Crete or to prepare your trip to Crete, I think it would be better for you to get some guide. I propose you start with Lonely planet Guide « Crete » edition of 2012. These 288 pages will inform you about all the places to visit. It is quite complete guide for your first travel in Greece. This book exists also as e-book that you can get with your Kindle reader device.
To buy the below Lonely Planet « Crete » guide, please click on the below frame on the left. Have good holidays in Greece !