Here is the list Greek islands with airports. List of greek islands for holidays with the list of ionian islands, list of Greek islands Cyclades, list Dodecanese islands, list North Aegean islands Greece, list of Sporades islands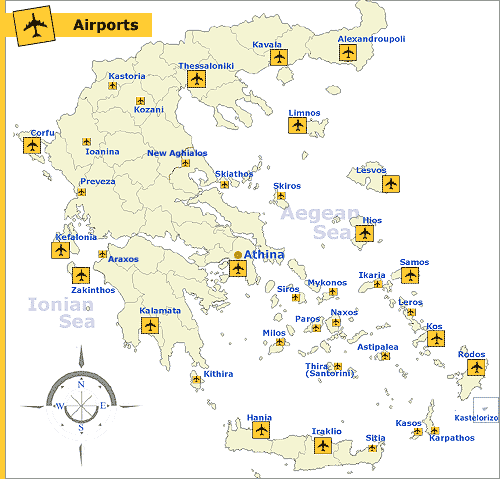 List of ionian islands : They are seven, that's why we call the Ionian Islands « Eptanisa » (means 7 islands) : Cephalonia, Corfu, Zante (Zakynthos), Lefkada, Kythira, Ithaca and Paxi. Further to the mentionned 7 Greek island of the Ionian sea, there are very small islands. Ionian islands map Greece below…
 Zakynthos
List of Greek islands of the Cyclades group : Naxos, Andros, Paros, Tinos, Milos, Kea, Amorgos, Ios, Kythnos, Mykonos, Syros, Santorini, Serifos, Sifnos, Antiparos, Folegandros, Herakleia, Donoussa, Thyrassia, Schinoussa, Koufonissia, Delos, Sikinos, Anafi, Kimolos. Futher to the mentioned Cycladic islands, there are many small islands. Map of Cyclades greek islands below.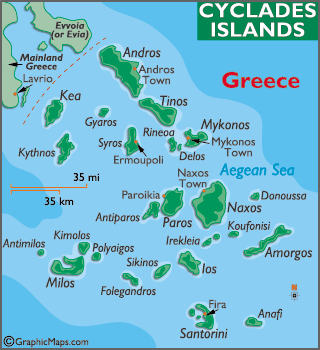 Santorini
List Dodecanese islands. They are twelvw main islands, that's why we call the Dodecanese islands « Dodecanisa » (means 12  islands) : Astypalaia, Kalymnos, Karpathos, Kasos, Kastellorizo, Kos, Leros, Nisyros, Patmos, Rhodes, Symi, Tilos. Dodecanese islands map Greece below.
 Kastelorizo
List North Aegean islands Greece : Lesbos; Chios; Samos, Lemnos, Ikaria, Fourni, Inouses, Psara, Agios Efstratios, Samothrace.
List of Sporades islands (region of Volos) : Skiathos, Alonissos, Skopelos.
LIST OF AIRPORTS IN GREECE :
| | | | | |
| --- | --- | --- | --- | --- |
| International airports | | | | |
| Alexandroupoli | North East | | AXD | Alexandroupolis International Airport  »Demokritos » |
| Athens « Spata » | Athens | | ATH | Athens International Airport  »Eleftherios Venizelos » |
| Chania | Crete | | CHQ | Chania International Airport  »Ioannis Daskalogiannis » |
| Corfu / Kerkira | Ionian islands | | CFU | Corfu Island International Airport  »Ioannis Kapodistrias » |
| Herakleion | Crete | | HER | Herakleion International Airport  »Nikos Kazantzakis » |
| Kalamata | Peloponnese | | KLX | Kalamata International Airport  »Captain Vassilis Constantakopoulos » |
| Kavala | North East | | KVA | Kavala International Airport  »Megas Alexandros/Alexander the Great » |
| Kefalonia | Ionian islands | | EFL | Kefalonia Island International Airport  »Anna Pollatou » |
| Kos | Dodecanese | | KGS | Kos International Airport « Hippocrates » |
| Lemnos | North Aegean sea | | LXS | Lemnos Island International Airport « Hephaestus » |
| Mytilene of Lesbos island | North Aegean sea | | MJT | Mythilene Island International Airport  »Odysseas Elytis » |
| Rhodes | South – East | | RHO | Rhodes Island International Airport  »Diagoras » |
| Samos | North Aegean sea | | SMI | Samos Island International Airport « Aristarchus of Samos » |
| Thessaloniki | Macedonia | | SKG | Thessaloniki International Airport « Macedonia » |
| Zakynthos | Ionian islands | | ZTH | Zakynthos Island International Airport  »Dionysios Solomos » |
| National airports | | | | |
| Astypalaia | South – East | | JTY | Astypalaia Island National Airport « Panaghia » |
| Chios | North Aegean sea  | | JKH | Chios Island National airport « Homer » |
| Ikaria | North Aegean sea | | JIK | Ikaria Island National Airport  »Icarus » |
| Ioannina | Northwest | | IOA | Ioannina National Airport « King Pyrrhus » |
| Kalymos | South East | | JKL | Kalymnos Island National Airport  »Pothaea » |
| Karpathos | South East | | AOK | Karpathos Island National Airport  »Ammopi » |
| Kastoria | Macedonia | | KSO | Kastoria National Airport  »Aristotle » |
| Kozani | Macedonia | | KZI | Kozani Natioanl Airport  »Philippos » |
| Kithyra | South Peloponnese | | KIT | Kithira Island National Airport « Alexandros Aristotelous Onassis » |
| Milos | Cyclades | | MLO | Milos Island National Airport  »Aphrodite » |
| Mykonos | Cyclades | | JMK | Mykonos Island National Airport « Delos » |
| Naxos | Cyclades | | JNX | Naxos Island National Airport « Apollon » |
| Paros | Cyclades | | PAS | Paros Island National Airport  »Panteleou Paros » |
| Araxos near Patra town | West Greece, Peloponnese | | GPA | Araxos National Airport  »Agamemnon » |
| Aktio near Preveza town | West Greece | | PVK | Aktion National Airport |
| Santorini or Thira | Cyclades | | JTR | Thira (Santorini) Island National Airport  »Zefyros » |
| Skiathos | Sporades islands, Center of Greece | | JSI | Skiathos Island National Airport  »Alexandros Papadiamantis » |
| Skyros | Center of Greece | | SKU | Skyros Island National Airport  »Aeghaio » |
| Syros | Cyclades | | JSY | Syos Island National Airport  »Demetrios Vikelas » |
| Nea Anchialos near Volos town | Center of Greece | | VOL | Nea Anchialos National Airport |
| Other public use Airports | | | | |
| Kasos | Cyclades | | KSJ | Kassos Island Public Airport  »Agia Marina » |
| Kastelorizo or Megisti | South -East Greece | | KZS | Kastelorizo Island Public Airport « Megisti » |
| Leros | Dodecanese islands | | LRS | Leros Island Public Airport  »Dodekanisos » |
| Sitia | Crete | | JSH | Sitia Public Airport « Vitsentzos Kornaros » |
| | | | | |