Every month, I will unveil to you the best pictures of Greece I have in my soul. Greece is a small European country which has a lot to tell us since the very ancient time…
The best picture of July 2014 : The Meteora. 
One of the monasteries in the region of Meteora in Central Greece. These huge monoliths are a very rare geological phenomenon. During the period between 11th and 14th century, on the top of these rocks, the Greek monks built 24 monasteries, in order to be protected from the bandits and pirates.   Photo by Karolos Trivizas,  National Geographic
The best picture of August 2014 :  Herodes Atticus Theater in Athens 
In a ritual that has taken place for centuries, an expectant assemblage awaits a dramatic entrance by performers under darkening skies in the Herodes Atticus Theater in Athens, Greece. This steep-sloped amphitheater was built around A.D. 160 by Greek philosopher and rhetorician Herodes Atticus as a tribute to his wife. The theater still hosts music, dance, and theatrical events today. Photo by Borchi Massimo, National Geographic
The best picture of September 2014 : Thessaloniki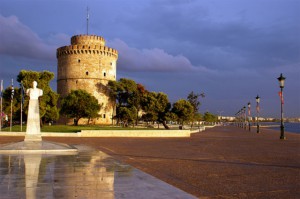 The White Tower of Thessaloniki. Its the symbol of Greek sovereignty over Macedonia. The present tower replaced an old Byzantine tower (12th century) constructed by the Ottomans to fortify the city's harbour; it became a notorious prison and scene of mass executions during the period of Ottoman rule. Its exterior was substantially remodeled and its exterior was whitewashed after Greece gained control of the city in 1912. It has been adopted as the symbol of the city.
The best picture of October 2014 : Myrthos beach on Kefalonia island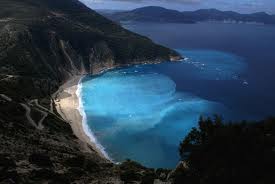 Myrtos beach on Kefalonia island is one of the best beached in Greece. The surrounding sediment is is made up of marble material, metamorphosed limestone and white cobblestones making the sea turquoise and the beach white.
The best picture of November 2014 : Hydra island port
Hydra island's port »  is a crescent-shaped harbour. Whitewashed houses rising on the hills on both sides from an azure blue sea. Really amazing. Photo by Karolos Trizas