Discover all Greece through Syros island in the Cyclades in Greece. Syros has so strong culture, historical and architectural traces that your holidays in Syros island in Greece will remain unforgettable. This is the island where Greek tradition and western influence mixture gave marvellous result. Discover also natural beauty of Greek Syros with wonderful beaches
Where is Syros island ? See below maps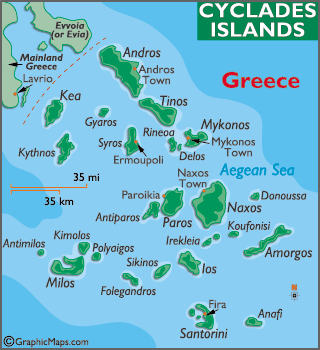 Where to stay in Syros ?  Actually, I think it is better to stay in Ermoupoli, main town of Syros island. Arrived at Syros by ferry-boat from Athens (4 hours beautiful journey), we stayed at Appolion palace (book here) if you want at Vaporia area in town. It was not expensive if I think that in this hotel, I lived a dream… : from our window, we had the impression to be ready to jump into the cristalline Aegean see (see photo hotel around hotel). Vaporia is I think the best quarter of the town : With beautiful Agios Nikolaos church of Syros and many aristocratic houses inhabited by rich merchants and ship owners of the 19th century.
Beautiful Ermoupoli :
1. A little bit history about Ermoupolis. It is the capital of Syros and Cyclades group of greek island. Nice Walk along the sea seeing the neoclassical white and coloured houses and at the top, at Ano Syros, beautiful Anastaseos church of Syros (1) and catholic basilica of San Giorgio of Syros (2) -photos (1) and (2) on the top. Ermoupoli was founded in 1820s during the Greek revolution against the Turks Ottomans as an extension of Ano Syros. Syros offered refuge to the inhabitants of Chios, Psara, Ydra and Crete islands. It became the leading commercial port and the 1st free industrial town of Greece. After the 2nd World war II, Pireaus port was prefered to Syros' one but now thanks to the cultural and natural great inheritage, it became wealthy island.
2. What to do in Ermoupoli town on Syros Greek island ?
Visit the Ermoupoli Art Gallery which is in one of the 1820s commercial warehouses of the port (see photo above on the left). Sometimes in the evening, there are concerts or another happenings.
In the afternoon at Miaoulis Square, have your classical greek cafe frappe , main square of Syros. You will see the big municipality building of Ermoupolis (ancient classism & renaissance style, founded in 1876) with the town hall, the courts and the Archaeological Museum (founded in 1835) and white marble basement and statue of Andreas Miaoulis, admiral commanding Greek naval forces in the 1820s during Greek War of Independence (see photo above on the right). Behing the square, you will see also the Apollon theater (built in 1864) also named « the little Scala di Milano » (see 2 photos below)
3. Visit the beautiful churches of Ermoupolis. Constantinople (today Istanbul) is taken by the Latins in the 4th Crusade (1204) and Syros remained under Venetians rules for 3 centuries.  In 1522, Ottoman Barbarossa Hayreddin Pasha took Syros but gave substantial privileges such as religious freedom. The Catholics of Syros came under the protection of France and Rome. Many Catholics, Jesuits and Capuchins arrived to Ano Syros for protection.
a) Kimisi Theotokou Church (basilic without dome, style baroque-renaissance, built in 1829) where you can find the famous painting of El Greco « Dormition of the Mother of God » (in greek, Κοίμησις Θεοτόκου)
b) Anastasis church (Dome and cross shape, finished in 1909) is situated on Vrodado hill, hill of Ermoupolis and from that place, you have wonderful views of Ermoupolis and port.
b) Agios Athanasios church in Valley slope with view the impressive shipyards of Neoria area (photo on the left below) and Capuchins Monastery at Ano Syros
4. Walk in the narrow coloured streets of old town of Ano Syros. It  was built by the Venetians (13th cent) on the hill of San Giorgio, northwest of Ermoupolis. I likes there this mediaval atmosphere at very humain size (low arcades), all these countless steps between in streets and two floors houses with bougainvillaeas and cute cats !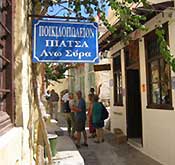 At Piatsa Ano Syra street, many nice boutiques and cafes
5. Apart from discovering Ermoupoli, Ano Syros and some nice villages, do not forget to go and rest on stunning Syros best beaches on the south side of the island as Agathopes Beach
   Agathopes Beach with picturesque taverna
Vari beach                                                                     Galissas beach
  I wish you good holidays on Syros Greek island !
For helping you furthermore in your discovery of Syros and Cyclades islands, I suggest you to buy the very good below guide « Fodor's Greece: With Great Cruises and the Best Island Getaways » edited in 2012.  To buy it, just click on the below frame on the left.